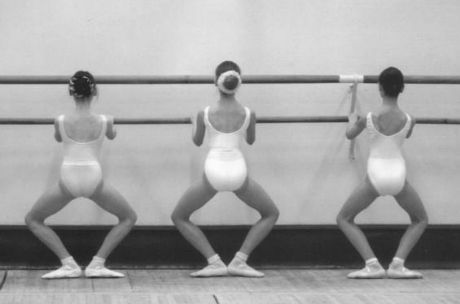 Though I was pleasantly surprised to meet several fellow grown ups in my intermediate ballet classes this week, the same cannot be said of my elementary classes, where I was the one and only adult.
I know a lot of adults would feel uncomfortable in a class of 8 and 9 year olds, but if I am completely honest with you? While I prefer taking class with students closer to my own age, I felt surprisingly okay about taking class with children.
They're just kids, after all. They aren't scary. I actually like kids!
And at the end of the day, it's not about who is in your class. It's about learning ballet, and the elementary levels move at the perfect pace for me to truly focus. I have time to think about my technique, and throughout the movements, I coach myself in my mind: "Posture! Neck long! Shoulders down! Turnout! Stretch! Push your feet! Use the inner thigh!" and so on and so forth.
In my humble opinion, the elementary levels are in many ways more valuable to me than my intermediate classes, where, all too often, I devote every last bit of energy to remembering a complex combination and in turn, neglect basic technical concepts.
Here's my hope: after enough elementary classes, the basics of ballet technique will become so natural to me that in my intermediate classes, as I learn the combinations, most of the technique will just
happen
, because I have developed all these neuro pathways in my brain: the pathway for posture, the pathway for turnout, the pathway for pointing the feet, and so on and so on and so on.
This is my hope, but only time will tell.
(Photo of students from the
Vaganova Ballet Academy
)