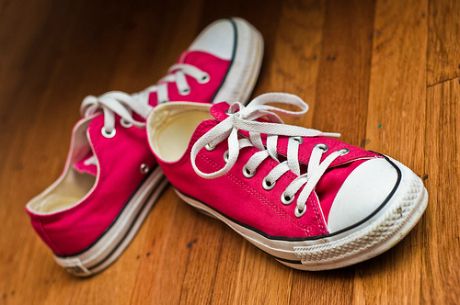 I took several dance classes this summer, and one day, I went to a studio to take leaps and turns, a class in which you focus solely on your leaps and turns (hence the name). I took this class, because I can at least dream that someday I might have sky high leaps with hyper extended legs and deeply pointed toes and that I might land a triple every time I pirouette. I said
dream
, okay?
I arrived at the studio, where a few girls were finishing up a jazz class, and I sat down on the floor in the corner of the room and stretched, like I always do. When jazz concluded, the studio owner came to me and said there was a change in the schedule and there would be no leaps and turns that day. Instead, a new instructor would be teaching hip hop.
"Wait, what?" I tried to mask my shock.
"Hip hop. Have you ever done hip hop?"
"No, never."
"There's a first time for everything."
I sat on the floor in my black leotard and pink tights, stretching my turnout and coming to terms with the fact that I was probably about to take my first hip hop class.
"Well," the owner came back and said, "You can either stay for hip hop or come to the Monday section of leaps and turns. Take your pick."
But when life gives you a hip hop lesson...
I didn't have any sneakers, so I danced barefoot to a song about being a mother star (I'm fairly certain this was the PG version), driving around town in my car, and needing my money
pronto
.
I say I "danced", but let's not jump to conclusions--I'm still not sure if we can classify my movements as dance. Truth is, I can't fully express with words what I saw in the studio mirror that day. I stomped around and flexed my arm muscles, as the teacher instructed me to, but I looked completely ridiculous, comparable to an angry or sleepy (or both) chicken.
I didn't have any--what did the teacher call it?--
swag
.
After class, I thanked the instructor for a new experience and never returned. (I started taking the Monday section of leaps and turns.)
Don't get me wrong, I can respect the art of hip hop, but I do so from a distance, from a great,
great
distance, because when this white girl starts dancing hip hop? It's not pretty.
I have no regrets about taking the class, though, because I think it's healthy to leave our comfort zone once in a while and step into a different world. Do remember the last time you were completely out of your element? What was it like?
(
Photo
by
Ben de Jesus
)