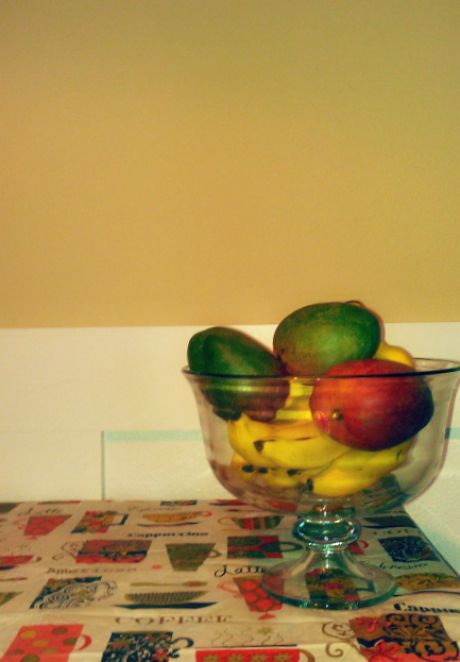 Sunday evening, my sister Cara called and said, "Hey! What are you doing? Can we come over? And stay the night?"
And I said, "But of course!"
Billy and Isaac were staying with their paternal grandmother, Cara explained, so she and her husband were feeling sad and lonely without their wild, wrestling,
transforming
little boys: "It's easier to only watch Lila, but I am not used to the quiet. I don't like it!"
Upon hearing news of our visitors, Damian yelled "Hurray!" and he and I dashed around our apartment, as we attempted to straighten our belongings into a semblance of order. I tossed the throw pillows on the couch, sat a vase of fresh flowers on the table, and filled the fruit bowl with bananas and mangoes.
"Let's not
just
have house guests," Damian decided. "Let's throw a party."
So, we went to the store and came home with cupcakes and Chex Mix, the obvious formula for a party.
When Cara, Chuck, and
Lila
arrived,we ate snacks and watched a movie, as Lila quietly helped herself to handful after handful of Chex Mix. (I'm pretty sure at one point she had a secret stash beneath her tiny, purple chair.) She also wore
the tutu
and broke havoc in my childhood dollhouse (I don't mind the havoc), and then, as her bedtime drew nearer, she absolutely refused to fall asleep, until I held her tight in my arms and walked up and down the hallway while making
Ssshhh-
ing
noises over and over.
I must say that nieces and nephews are excellent practice for the children I hope to have one day. I'm storing away all kinds of useful tricks in the filing cabinet of my mind--for instance, never actually say, "Alright, let's go to sleep, little girl" lest the child resist, but instead make the child so comfortable that she can't help but willingly fall asleep. This probably won't work for all children and probably won't work for any children at all above the age of three, but I will try and remember, nonetheless.
The next morning, we went thrifting (I bought a tea cup and saucer), then we had Chinese for lunch (oh, the joy of a fried dumpling) and
Andy's frozen custard
for dessert. Cara, Chuck, and Lila went home early Monday afternoon, and I tried to not seem too terribly sad.
I think unexpected house guests might be one of life's most pleasant surprises.