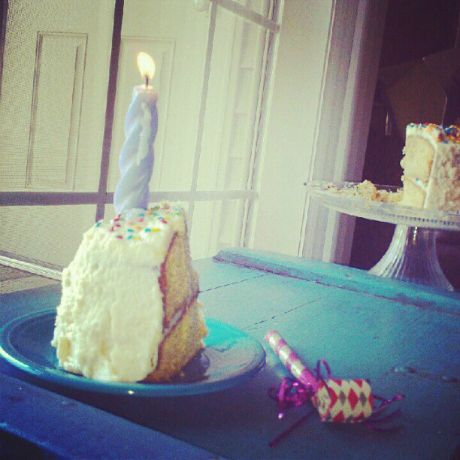 Today I am 24, which is neither here nor there. Honestly, I feel more nonchalant about today than I've ever felt about any birthday in my life. I am no longer heartbroken (at least not as heartbroken as I used to be) that my grown up birthdays aren't quite as incredible as the birthdays I had as child. (It seems like every year of my childhood was two long countdowns: one to my birthday, the other to Christmas.) I know today there will be no balloons, no toys. And toys wouldn't be any use to me, anyway, which, though obvious, is still kind of sad in a way. Such is the passing of time.
24 seems like an awfully intimidating number--I am slowly but surely reaching the other side of my twenties, the side that is closer to thirty than to twenty--but of course I realize how silly I must sound. Logically, I know 24 is not old. Yet 24 is still the oldest I have ever been in my entire life.
Though I am young, I feel as if I should be more established, more settled. I feel as if should wake up at the same time every morning and follow a regular exercise routine, as if I shouldn't own more than one tutu in my size. I should have a dining room table with six chairs, a real job in a cubicle, a subscription to
Good Housekeeping
, and a purse filled anything you would ever need in an emergency (hand sanitizer, band aids, inflatable life vests).
In some ways I feel I have grown up so quickly, but in other ways I feel I have not grown up at all.
I still have messy hair, and I still wear big, nerdy
glasses
and mismatched socks. I still make really
stupid jokes
and sing and hum all day long. I still sit on the edge of my seat during Toy Story 2, and I still want to be a
ballerina
when I grow up.
I'm also still waiting for Peter Pan to come to my window.
It's been said that the more things seem to change, the more they remain the same.
"
P

lus ça change, plus c'est la même chose."
Another birthday. Another day. Time keeps moving right along. Today, I am 24, but that is the only difference.