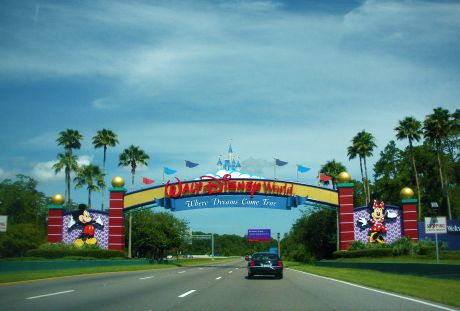 Disney World, the happiest place on earth, where dreams come true when you wish upon a star, and
anything in the world (which is pretty small after all) is possible,
and don't forget to think of the happiest thing (it's the same as having wings), because with a little faith, trust, and pixie dust, you'll surely fly right up to that star you wished upon, and if you always let your conscience be your guide, someday day your prince will come.

Did I leave anything out?

Damian and I both agree that visiting Disney World's Magic Kingdom was the absolute peak of our vacation, and nothing could quite compare. I had been before, as a child and as a teenager, but Damian had not. So, last week, he walked down Main Street with Mickey and Minnie, dove head first into a briar patch, and sat in a giant tea cup and spun around as fast as he could, all for the first time in his life.

He already wants to go back.



Disney World world is the only theme park I have ever visited in which I genuinely suspend my disbelief. I never roll my eyes or catch a peek of the cranks and gears that make everything work. I always feel as if I am actually stepping into the movie or story of whatever ride or show I am experiencing.

I guess that's why they call it the most magical place on earth.

That's also why, over the next few days, I am going to write a short series on Magic Kingdom, in which I take you through each of the Kingdom's lands (Tomorrowland, Fantasyland, Adventureland, Frontierland and more), as well as my favorite details of the park. Hope you enjoy.