In Frontierland, you might meet Woody and Jessie, listen to the Country Bears sing, ride the runaway mine train, explore the dark caves of Tom Sawyer's island, and perhaps the most thrilling...
...ride a log boat down a mountain and land with a giant splash, right in the middle of a thorny briar patch. Zippity-do-da, zippity-day.
Right around the corner from Frontierland, you find Liberty Square, where you can visit the haunted mansion (which isn't scary, just a bit spooky)...
...and the Hall of Presidents, a video presentation of American history that concludes by showcasing a collection of animatronic replicas (that means robots) of every American president to date. (Let's be real about the Hall of Presidents: I actually like history, just not at Disney World. I tried. Really I did. But Damian and I moved on quickly. Splash Mountain was waiting!)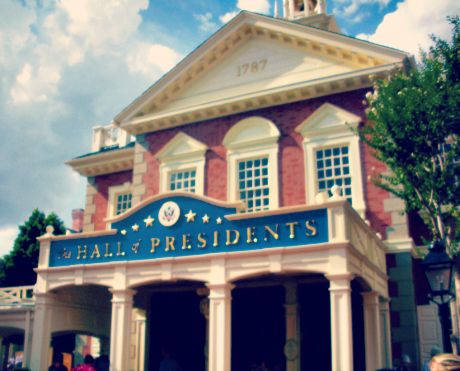 You can also watch the riverboat make it's rounds (or even catch a ride)...
...and you might even run into the Liberty Square marching band. Now
that's
pretty neat.
Have you ever been to Frontierland or Liberty Square? If so, what was your favorite part? (I seem to have a soft spot for Splash Mountain.)