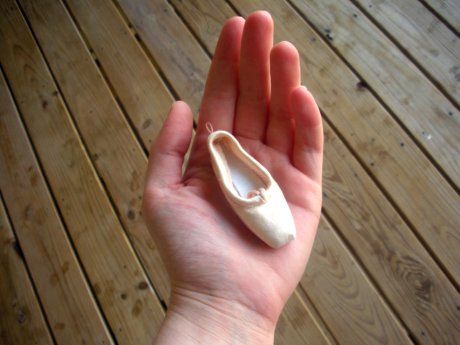 Okay, so this is kind of silly, but a few weeks ago, I was going through some of my old things and found a tiny pointe shoe. I am not certain, but I think it was once a keychain that came as a free gift with an order from Discount Dance Supply, probably when I was in high school and had just begun ballet for the very first time and once in a while, around my birthday or Christmastime, my mom and I would sit down at the computer, and I would pick out a few ballet things. I am amazed that through the years the tiny pointe shoe never fell into a crack or ended up in a giveaway pile. I am also amazed by it's accuracy, from the pleating at the bottom to the string you can pull to adjust the sizing. I'm not sure why you would need to adjust the sizing, but nonetheless, you can. I couldn't find this exact model online, but apparently,
pointe shoe keychains
are still available. Who knew?